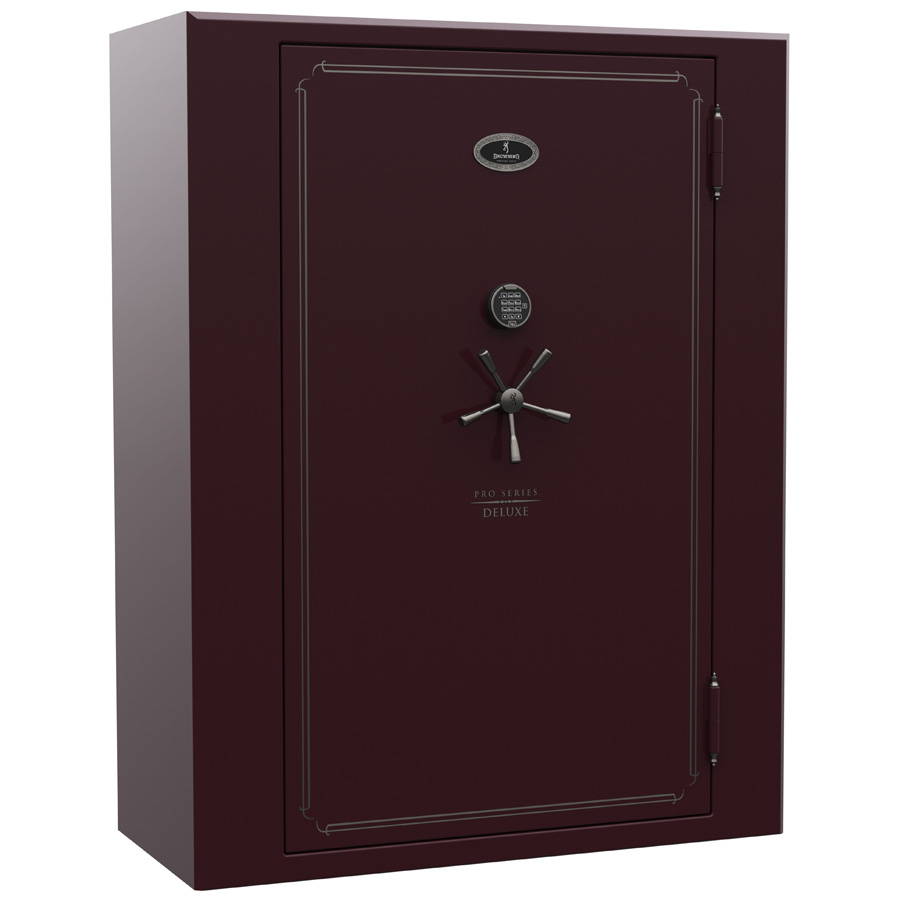 Browning Pro Series Deluxe Series
Even though a Deluxe safe offers tough security measures and an impressive fire rating, its most important feature is the 24/7 peace of mind that you get knowing your valuables are tucked inside. Deluxe models include massive MAX Locking and Pry-Stop End Bolts that improve pry resistance. An expertly-applied exterior finish is available in a variety of colors to suit your taste or home decor. You'll also get the most versatile interior on the market that adjusts easily to fit more possessions than imaginable.
If your gun collection is already big, or you want space for a growing collection, the DLX65T is the largest safe in the Deluxe line. Classified as a Tall Extra Wide safe, the cavernous interior can swallow up to 65 long guns, while the Axis interior makes all of your other valuables and handguns simple to organize and locate.
Make no mistake, this is a BIG safe. The exterior dimensions, however, are designed to take up space along the wall instead of projecting into the room. This all means that when you notice your Deluxe safe in your home it will be because of its gorgeous appearance rather than the fact that you constantly have to walk or move around it.
Deluxe 65T - Security Features
The best Browning ProSteel safe door is made from multiple layers of steel formed together to provide superior strength, pry resistance and attack protection. The full second panel added to the first is a key reason for its outstanding strength.
The door face is 1-5⁄16" thick with all the massive multiple layers of reinforcement. What is the advantage of doing this? The habits of burglars are important. Criminals think the door is the best place to attack based on centuries of tradition. And attack they will. But with engineered features like Duo Formed Doors, the door becomes essentially the worst place to attack. At least with a Browning ProSteel safe.
Additional security features include:
The Force Deflector Locking System (patent pending) prevents bolt or handle forces from reaching the lock by using a rotating cam device
Reinforced Door Frame Resists a Pry Attack
Pry-Stop Corner End Bolts-2 1⁄2 times longer and attach to a high-strength steel angle iron which prevents the locking bolt support bar from bending in a pry attack
11-Gauge Steel Body
Deluxe 65T Fire Protection Features
When heat builds and flames roar, ThermaBlock ensures that your valuables are well protected. Exclusive to Browning ProSteel safes, ThermaBlock features thicker sheets of fire insulation arranged in an interlocking design that minimizes gaps that would allow the internal temperature in the safe to rise during a fire.
ThermaBlock's fire protection has shown in fire-testing that a Browning ProSteel safe with ThermaBlock and external hinges offers fire protection as much as three times better than a safe with internal hinges and gaps in fire protection that leave your valuables unprotected.
The Deluxe 65T offers 100 Minute fire rating at 1680°F.