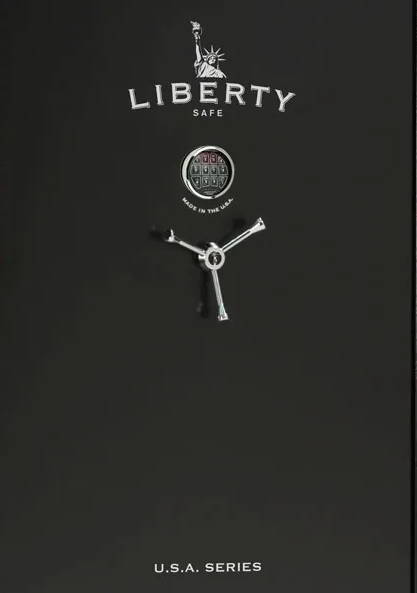 With Liberty Safe's USA Series, you get the benefit of purchasing an entry-level safe without skimping on premium protection features and added features. Does this sound too good to believe?
The USA safe is a survivor of our 1000 lbs. Drop Test, where Liberty Safe dropped a 1,000-lb. block of solid concrete from 100 feet. This is a claim other budget-priced safe manufacturers can't make. In fact, the same test was performed on a competitor's safe, which was obliterated by the process.
Overview of Liberty Safe's USA Series
Starting at $1,899, USA Series safes are available in four sizes:
USA 30; holds up to 30 long guns

USA 36; holds up to 36 long guns

USA 48; holds up to 48 long guns

USA 50; holds up to 50 long guns
The number of guns you can store in your safe may vary according to their size and attached accessories.
USA's Security Features
The USA safe is a budget-priced safe loaded with security protection. It is a UL-Listed Residential Security Container (RSC-8M10). Its body is constructed from strong 12-gauge steel and the door on the USA has a 1" composite door-front with a total thickness of 4.5-inches. Instead of traditional locking bolts, military-style locking bars are built into two sides of the door. It is also the only entry-level safe that has an external relocker built in.
USA Safes security features include:
UL listed safe body

UL listed SecuRam toplit electronic lock

Three hardened steel plates to protect the lock from drill attacks

Relocker locks the safe down in the event of attempted brute force entry

Liberty's exclusive, ultra-strong locking bars protect against pry attacks
USA's Fire Protection Features
The USA proves that an entry-level, budget-friendly safe does not have to skimp on fire protection. This safe has been fire-rated for up to 60 minutes of fire protection at 1200°F. Unlike other inexpensive safes, USAs feature a special door seal that is designed to withstand a fire.
USA safes have:
1 layer of UL-rated fireboard built into walls

3 interlocking layers of UL-rated fireboard built into ceilings and doors

Palusol™ heat-expanding seal that expands up to 7 times its size when the temperature hits 212°F
USA's Added Features
Your main concern when buying a safe is how well it protects. Style and function are also important things to consider. Liberty's USA safes include such features as:
Economy door storage panel

Level 3 Security

Drop handle

Fully upholstered flex adjustable interior

SecuRam toplit electronic lock

Factory-installed door storage panel
Yes, USA safes are completely made in the USA and come with the Liberty Safe limited lifetime warranty.